People spend more time in their bedroom compared to other areas of the home. So, it makes sense that it be the focus of some substantial effort if you are going to make any aging in place changes or remodeling. These are some great aging in place bedroom ideas to make your room more usable (for everyone), comfortable and safer for you as you grow older.
Location
The optimum location for the bedroom that you or an elderly loved one sleep in would be on the main level of the your home. This ensures easier access to it and other rooms you will need in your daily life. In some homes, this is sometimes not possible. If it is not, you might consider adding an additional bedroom to the main floor, installing a chair lift or elevator to make the trip to another level of the home easier or remodeling to make an existing room on the main floor a bedroom.
Aging in place bedroom safety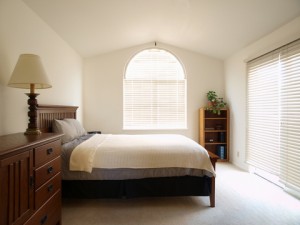 Getting in and out of bed can become a real issue as you grow older and your physical capabilities diminish. One of the most economical (and most widely used) is installing safety handles on the bed to allow easier access and reduce the potential for falling. These types of safety rails have been the standard for years and recently have had several new style handles come to market that are more stylish and offer added stability. Handles are made in a variety of styles and quality and can be found at many home health stores and websites.
Bedroom Phone
As obvious as it might sound, having a working phone beside the bed is important in case there is a need to call for help. Adding an extra phone jack is an easy modification and usually only requires a call to your phone service provider. Since a power outage could affect a cordless phone, it is a good idea to add a phone outlet by your bed and install a corded phone. If you have a phone provided by your cable company, make sure it has a backup battery.
Closets and Clutter
Believe it or not, cluttered closets can lead to people getting hurt. Storing heavy items or items you might use regularly on higher shelves can lead to accidents. Also, clutter means you have to search through your things to find stuff and that can lead to items falling. Organizing a closet for aging in place isn't difficult and could save you from hurting yourself. One great way to de-clutter your closet is having a closet system installed.Most major home improvement stores not only have the hardware for the closet systems, but also offer installation services. Adding an adjustable shelving system to the closet will allow for customization based on your needs.
Closet Lighting
A dark or shadowed closet is a safety concern and highly unusable; especially for those with failing eyesight. Light fixtures are relatively inexpensive to have installed. You also can find "stick up" lights that are battery powered and may suit your needs. Both of these can be found at most major home improvement stores.
Access and Maneuvering
An important feature for an elderly person's bedroom is adequate clearance for moving around the bed and proper clearance so you can get out of the room in case of emergency. Doorways need to be no less than 32″ wide. There also should be plenty of space around beds, dressers and closets to accommodate the use of assistive devices, such as wheelchairs and walkers.
Cluttered Walkways
Along the same lines, it is very important to have clear pathways into and through your bedroom to ensure safe passage; especially at night. Clearing clutter, throw rugs and other items that block a clear path for walking will reduce the possibility of tripping and falling.
Bedroom Lighting
Adding more light is critical to maintaining a safe home environment. This especially is true for those that have difficulty seeing. Low light inhibits vision and increases the probability of tripping. Having the proper lighting also creates a more pleasant home and studies show it increases a person's feeling of well-being.
More Aging in Place Home Ideas
Kitchen |  Bathroom |  Bedroom |  Home exterior |  Garage and parking |  Laundry room |  Common areas |  In-home mobility, interaction and more
---
Other aging in place topics