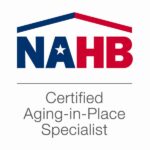 Certified Aging in Place Specialists (CAPS) can be the best choice for an aging in place remodeling project or new home construction for those seniors or older building the home they want to age in.
These professionals have taken part in a training and certification process through the National Association of Home Builders which prepares them to anticipate and meet the needs of older people.
Small Business Owner? Check out our new website just for you.
Certified Aging in Place Specialist (CAPS)
Through the use of universal design principles, CAPS professionals can work with you to create a safe, comfortable and more independent life in your home; both now and for the future. But, it doesn't stop with addressing design. CAPS professionals are trained in common remodeling projects and costs, accessibility issues, product recommendations, codes and standards, and the process and resources needed to provide a complete aging in place solution.
When you use the services of a Certified Aging in Place Specialist, you can rest assured that this person has been reliably instructed on how to craft solutions that meet the needs of seniors.
More about Certified Aging in Place Specialists
Why You Should Choose a Certified Aging in Place Specialist