The kitchen is one of the most loved rooms of the house – it's the place where everyone gathers and the place where we take care of our nutritional health. While we dream of (and plan) our homes in the future, let's take some time to gawk at these dreamy kitchens we found and note some of the features that make a kitchen for aging in place.
Not all of these kitchens for aging in place are universally designed but each of them have features that are important for aging in place. Take a peek at these beautiful kitchens and consider the many features when planning your kitchen redesign. Click on images for larger size.
Photos of Kitchens for aging in place
Ventus Interior Architecture and Design
Honolulu, HI
This lovely design has open space to move around. This kitchen features convenient access to cabinets and drawers, plenty of open counter space and bright front-mounted controls on the stove and oven. The natural light completes the design and softens this really great livable space.
AIP Custom Builders
Chicago, IL / Phoenix, AZ / Naples, FL
The richness of the dark wood and dark counters in this kitchen are balanced with the gorgeous task lighting along the counters. The kitchen also features plenty of room to move around, a stove with front controls for easy access and a lever faucet has lots of vertical room between it and the sink.
Adventures in Building, Inc.
Orlando, FL
We loved this space for many reasons including its bright color and layout. This beautiful kitchen is wheelchair accessible, which includes the roll under sink and counter space. This kitchen was the winner of the NAHB 2013 Homes for Life Awards – Single Space and features a multi-level island and a sink and stove top that raises and lowers.
Altera Design
Walnut Creek, CA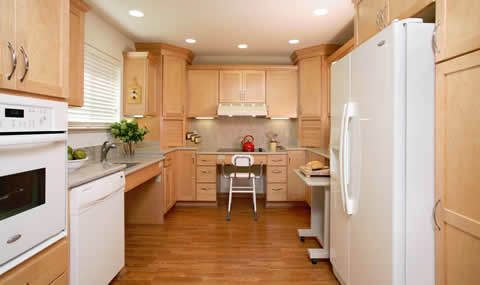 This kitchen caught our eyes because of its aging in place features are all wrapped up in a beautiful design. The neutral colors are highlighted by the amazing lighting, which includes plenty of task lights under the cabinets. The kitchen also has light switches at wheelchair level, roll under counters and sink, an oven and stove that have bright controls that are easy to reach.
Renewal Design Build
Decatur, GA
It's hard to look away from the fantastic farmhouse roll-under sink, but when you do you will see even more to love in this great kitchen. The open shelving makes items easy to access, deep handles on the cabinets and drawers make them easy to open, and there is a lot of accessible counter space next to the stove and sink.
Norbut Renovations
Rochester, NY
This wonderful open space leaves us green – with envy! Some of our favorite features include a roll-under sink and cabinet, a dishwasher drawer, lever-handled faucet and bright task lighting under the cabinets make this kitchen in an in-law suite a great space for an elderly parent.
Harry Braswell, Inc.
Alexandria, VA
This gorgeous kitchen had to make our list. It is so full of lower cabinets with deep handles, lots of counter space, a deep handled fridge and fantastic lighting, including task lighting and natural light from the large window. A second sink and food prep area are convenient to the stove and fridge for easy cooking.