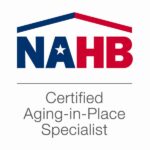 Learn more about Certified Aging in Place Specialists & the designation.
A Certified Aging in Place Specialist (CAPS) is someone who has been trained and certified through the National Association of Home Builders to meet the individual needs of seniors wishing to age in place.
From the NAHB website:
"The designation program teaches the technical, business management, and customer service skills essential to competing in the fastest growing segment of the residential remodeling industry: home modifications for the aging-in-place. The NAHB RemodelorsTM Council, in collaboration with the AARP, NAHB Research Center, and NAHB Seniors Housing Council, developed this program to provide comprehensive, practical, market-specific information about working with older and maturing adults to remodel their homes for aging-in-place."
Please see this information Certified Aging in Place Specialists & how to earn the designation.