PathLights™ System is a new product, new technology that lights the pathway ahead.
Almost every one of us has suffered some type of injury on the staircase in our own home (stubbed toe, twisted ankle, broken hip), or experienced a near-fatal fall. Often, the reason for many of these accidents can be linked to either the lack of adequate lighting on the staircase, or that we avoided turning on the overhead lights. Undoubtedly, bright lights make it difficult for our eyes to adjust at night and they wake up everyone in the household. Even a dark or dimly lit hallway presents a real danger: We may trip over items, slip on a tile floor or stumble along a carpet. Despite promising ourselves that next time, we will turn on the lights, we tend to repeat the same behavior.
Add to this the simple fact that baby boomers are remaining active into the golden years and with the economy facing a downturn, more retirees will stay in their existing homes and choose to age in place rather than relocate to retirement housing and senior communities.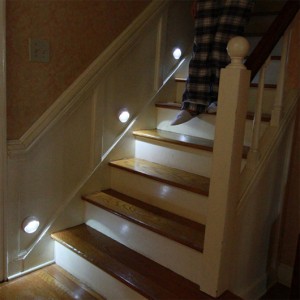 The 65-plus population is the most susceptible to dangerous falls. The
Centers for Disease Control and Prevention
cites that each year, one in every three adults age 65 and older will fall, and among this population group, falls are the leading cause of injury death. Over 95% of hip fractures are due to falls and direct medical costs of falls total approximately $30 billion nationwide.
Fortunately, a new product has been invented to answer the challenges of badly lit staircases and hallways. The product is called PathLights™– a patented system that lights the pathway ahead. The system is battery-operated – that means no expensive wiring and no need for outlets – and goes ANYWHERE you need it. It is an easy and effective way to light a staircase and it installs in less than five minutes!
"My personal hallelujah moment came a number of years ago when I was managing my elderly parents' living situation," says Josh Scharf, Founder and President of Archetype, Ltd, maker of PathLights™. "Like many other seniors, they preferred to live independently in their own home and I was supportive of their decision. The challenge was to make certain their home was safe. What I found was that there were a very limited number of products available to easily add much- needed safety features to the home."
"For my parents, nighttime and dark-location lighting became critical – especially on staircases and hallways. After a couple of close calls, I developed for my parents this easy-to-install automatic lighting system. They didn't even have to remember to turn the lights on since the lights would illuminate automatically." The concept caught on and ultimately, Archetype, Ltd. commercialized the product as PathLights™.
What makes PathLights™ magical is that the units in the system "talk" to each other, so when you pass one unit, it alerts the next unit down the path to light up automatically. The lights are just enough to illuminate the stairs. And the LED bulb will last for years. You'll never need to replace them. There are three simple components – 2 "A" units and one "B" unit. The "A" units are placed at the top and bottom of the staircase and the "B" unit in the middle of the staircase. The only tool you need to install is a simple ruler.
Pathlights™ video
PathLights™ has been distributed for the past three years. Josh keeps hearing back from consumers that the product has helped them feel more confident on staircases at night and helped them avoid injuries.
PathLights™ are readily available through Brookstone.com, Amazon.com, Improvements Catalog, Sharper Image, etc. for only $40-$50.
About Archetype, Ltd.
Archetype is a product development, marketing and manufacturing firm right outside of NYC. They develop home-solution, trans-generational products that do not scream "geriatric" and can be used equally by 20-year olds as well as boomers and seniors (while providing functional benefits for seniors). We know that with the realities of demographics, the economy, and healthcare, we need to be better at focusing our efforts at simple solutions that will support this new demographic reality — seniors living longer and staying in their homes longer.
Josh Scharf is the founder of Archetype Ltd., which manufactures and markets PathLights™, among other home solution products.